Cabins at Austin Lake Park
Austin Lake RV Park & Campground
is a park designed strictly for FAMILY FRIENDLY CAMPING!
---
Check In: 3:00pm
Check Out: 12:00pm (Noon)
---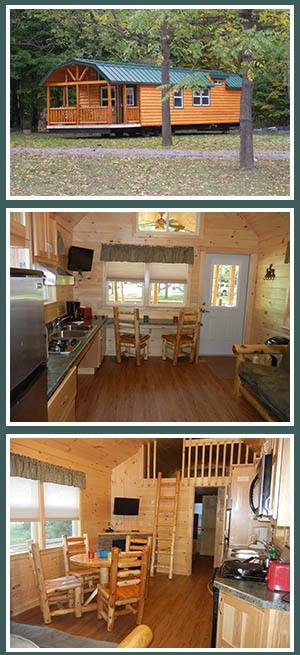 Want to stay but don't have a camper? No problem!
All have covered porches, fire rings and upright charcoal grills.
6 Cabins available with bathrooms, comfy beds, kitchens and air conditioning.
2 small cabins with comfy beds and air conditioning.
Log cabin style with wood interiors and log furniture.
Availability and Reservations: 740.544.5253
CABIN RESERVATION POLICY: Call 740.544.5253 for reservations. All reservations require a one-night deposit at time of reservation. Renter will be charged for one night cabin stay.
CABIN REFUND POLICY: a $25.00 handling fee will be charged to all cancellations. A refund will be given to cancellations made at least 30 days in advance.
SECURITY DEPOSIT: Bring $100.00 (cash or credit card) security deposit on the day of your arrival. Deposit will be refunded to you by check in the mail (to the address listed on your Rental Agreement) or credited to the credit card used at time of arrival, within two weeks of your departure should there be no charges for incidentals or damages.
No checks will be accepted upon arrival for cabin rentals